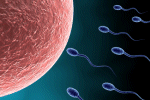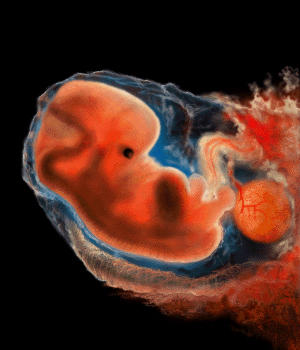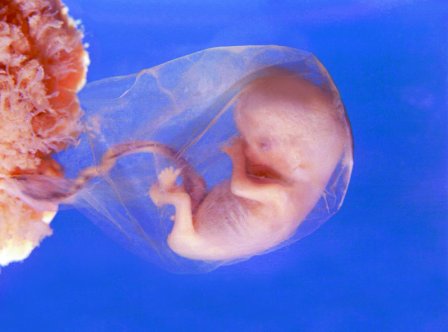 FACTS ABOUT FETAL DEVELOPMENT:
A human person's life begins at fertilization when the father's sperm penetrates the mother's egg.




From the time of fertilization, a baby's unique DNA and genetic makeup are complete from sex to hair color to height as an adult.


A baby's heart begins to beat just three weeks after fertilization.


Brain waves can be detected at six weeks after fertilization.


At two months after fertilization, all of the baby's organ systems are complete. The baby just needs to grow for the remainder of time in the womb.
copyright Wisconsin Right to Life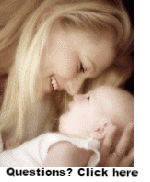 To watch a video to see the beginning of life in the womb and the step-by-step process of development - click on the link:
MODERN TEACHING TEXTS ON EMBRYOLOGY / PRENATAL DEVELOPMENT
"Human development begins at fertilization, the process during which a male gamete or sperm (spermatozoo developmentn) unites with a female gamete or oocyte (ovum) to form a single cell called a zygote. This highly specialized, totipotent cell marked the beginning of each of us as a unique individual."
"A zygote is the beginning of a new human being (i.e., an embryo)." Keith L. Moore, The Developing Human: Clinically Oriented Embryology, 7th edition. Philadelphia, PA: Saunders, 2003. pp. 16, 2. "Development begins with fertilization, the process by which the male gamete, the sperm, and the femal gamete, the oocyte, unite to give rise to a zygote."
T.W. Sadler, Langman's Medical Embryology, 10th edition. Philadelphia, PA: Lippincott Williams & Wilkins, 2006. p. 11.

OLDER TEACHING TEXTS ON EMBRYOLOGY/PRENATAL DEVELOPMENT
"The term conception refers to the union of the male and female pronuclear elements of procreation from which a new living being develops." "The zygote thus formed represents the beginning of a new life." J.P. Greenhill and E.A. Friedman, Biological Principles and Modern Practice of Obstetrics. Philadelphia: W.B. Saunders, 1974. pp. 17, 23. "Every time a sperm cell and ovum unite a new being is created which is alive and will continue to live unless its death is brought about by some specific condition."
E.L. Potter and J.M. Craig, Pathology of the Fetus and the Infant, 3rd edition. Chicago: Year Book Medical Publishers, 1975. p. vii.